The Di Mare Symphony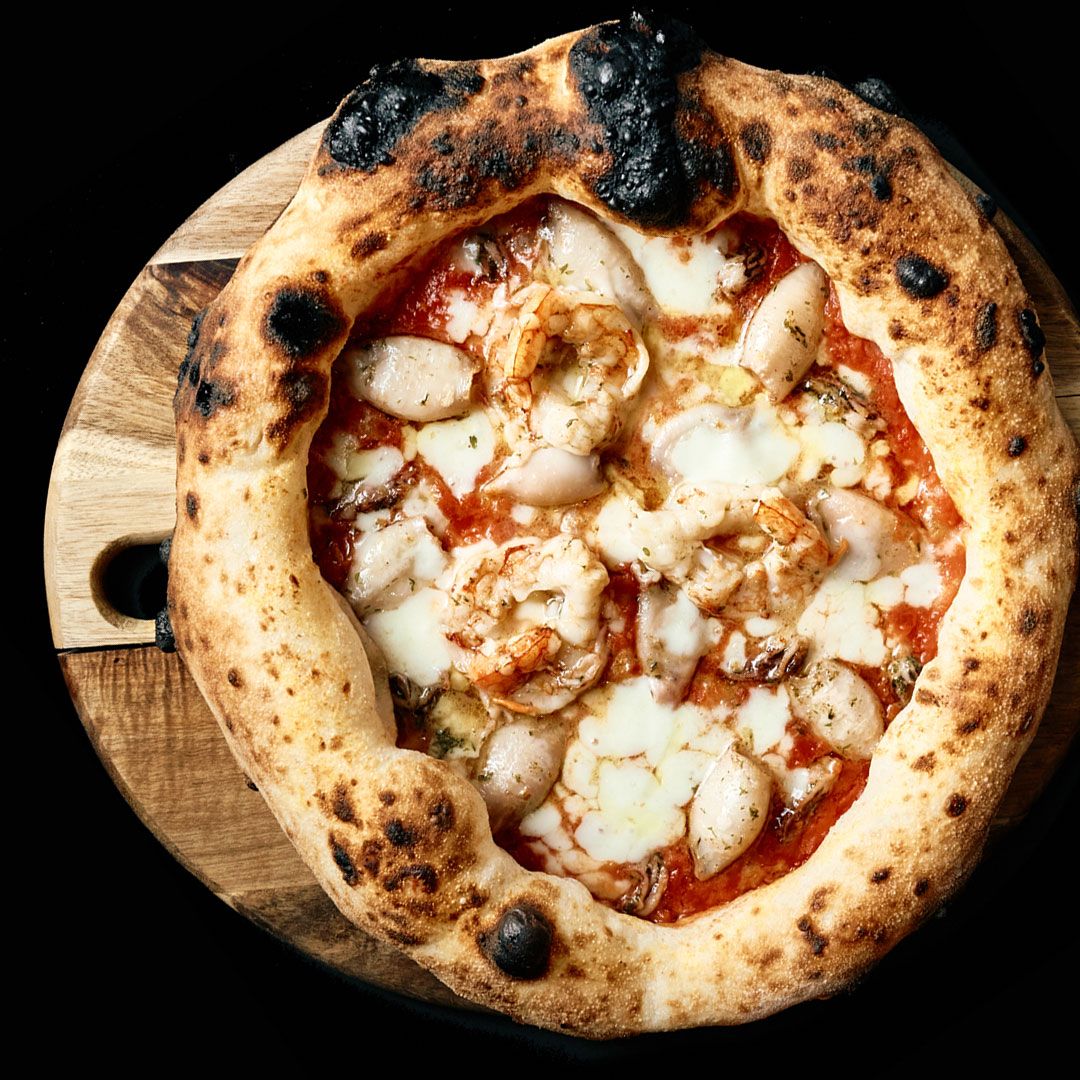 Scene opens on the cozy, bustling kitchen of Pizza Connection. The star of our culinary show is the sublime, redesigned Di Mare pizza. Every element has been carefully selected, every ingredient poised to play its part in this sumptuous orchestration of taste.
We find our stage on two contrasting yet harmonious bases – the Contemporary Napoletana, an age-old artisan tradition renewed with modern Food science, tender, crispy and fluffy with the enchanting whispers of authentic Italian heritage; and the Crunchy Romana, a delightful contradiction of delicate crispiness, a golden and crunchy crust that promises an exciting play of textures.
The foundation of our edible masterpiece, the San Marzano tomatoes, are handpicked, succulent, ripe – carrying the perfect balance of sweetness and acidity, the sun-kissed essence of Mediterranean groves transported onto the palate. Each luscious dollop offers a mouth-watering tanginess, a tease to your taste buds setting the stage for the gastronomic theatre to follow.
Next, the stage is adorned with Baby Patagonian Calamari, each tender piece gently tossed in our distinctive Soffritto. The calamari dance in a fiery yet harmonious blend of extra virgin olive oil, anchovies, chilli, parsley, and garlic, absorbing their flavors in a sizzling symphony that is as vibrant as a Latin fiesta.
As if that's not enough, the play continues with the introduction of our L1 Argentinian Prawns. Sourced from the crystal-clear waters of the South Atlantic, these prawns are delicately sweet, succulent, and have been lovingly freed from their shells for your effortless enjoyment. Each prawn is a mini-treasure trove of the sea, a hint of the vast, serene ocean encapsulated in every bite.
The crowning touch, the finishing stroke to our edible artwork comes in the form of Fior di Latte. This milky mozzarella cheese, as soft and white as a cloud, gently melts into the colorful canvas, its creamy texture a delicious contrast to the crust and a comforting blanket for the oceanic wonders it cocoons.
The curtain drops on this captivating performance with the delivery to your table. The aroma fills the air, the anticipation builds, and as you take the first bite, every ingredient, every note of this well-crafted symphony explodes in your mouth. The Di Mare Pizza at Pizza Connection is not just a meal, it's an experience - a taste narrative that will leave you yearning for the next act.
#CapeTownEats #LoveCapeTown #capetownfoodie #TasteOfCapeTown #CapeTownRestaurants #CapeTownPizza #PizzaNapoletana #EatOutCapeTown #CapeTownDining #InstaCapeTown