Cinematographic Lamb Ragù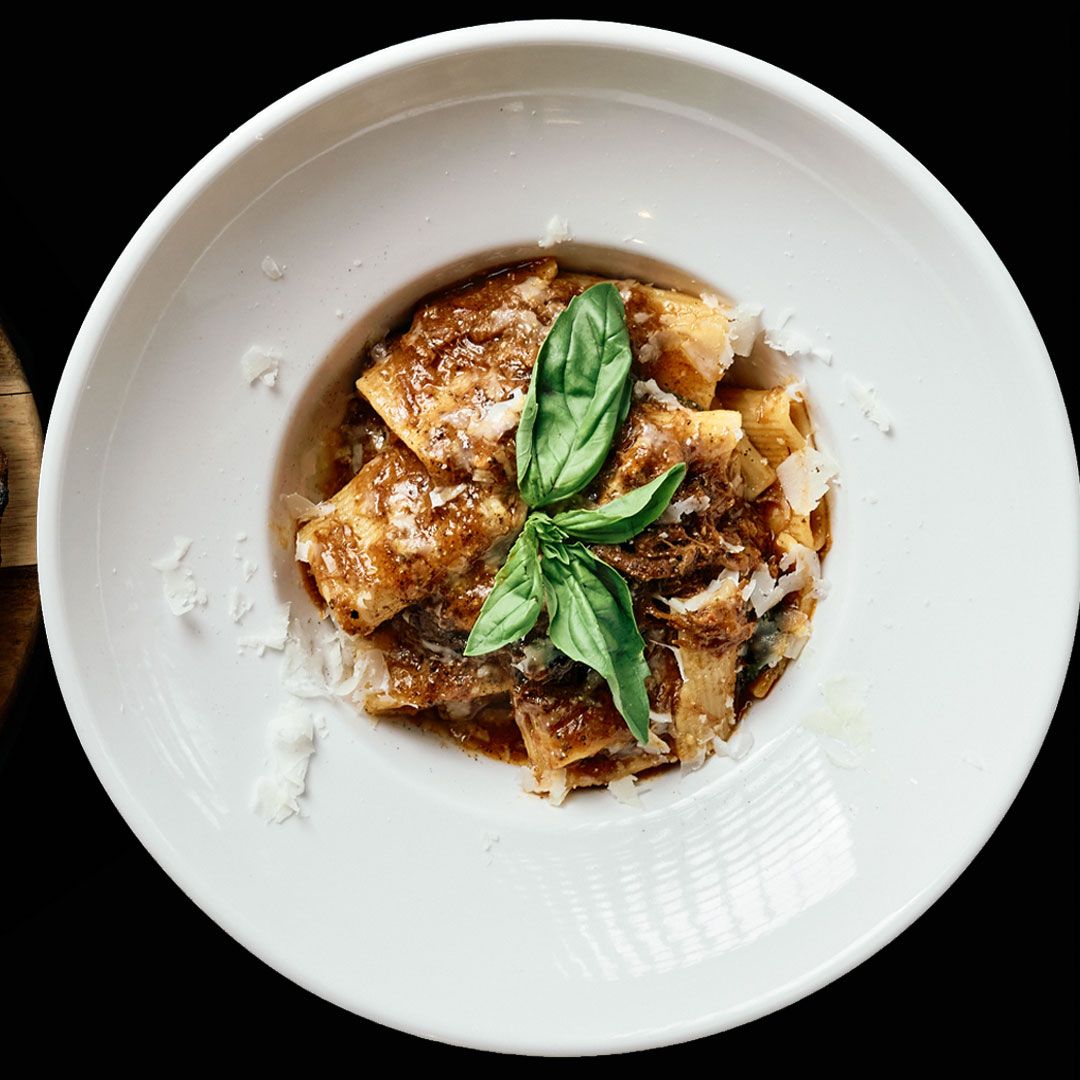 FADE IN:
INT. PIZZA CONNECTION - KITCHEN - DAY
A symphony of sounds erupts from the kitchen; clanging pots, simmering sauces, and culinary chatter, all underscored by the passionate energy of artisan cooks crafting their edible masterpieces.
At the heart of this culinary theater, a sight to behold unfolds: a marvel of gastronomy known as Paccheri from Pastificio Mancini with Lamb Ragù. The camera PANS CLOSE on the star of the show – the Paccheri, an audacious creation of the famed Pastificio Mancini. These large, hollow, cylindrical pieces of pasta with their impeccable texture, are the embodiment of Italian tradition and culinary excellence.
CUT TO:
INT. PIZZA CONNECTION - KITCHEN - STOVETOP
The sauce, a labor of love and patience, has been slow cooked over a gentle flame for a staggering 15 hours. The tender lamb, steeped in the rich, aromatic ragù, yields to the heat, transforming into a succulent, melt-in-your-mouth delight. It shreds seamlessly into the sauce, its fibers absorbing the complex flavors and enhancing the ragù's character.
DISSOLVE TO:
INT. PIZZA CONNECTION - KITCHEN - PREPARATION TABLE
As the Paccheri are carefully introduced into the ragù, they embrace the sauce, filling their cavernous insides with the robust lamb concoction. They cradle this decadent filling, each piece becoming a vessel of tantalizing flavor.
CUT TO:
INT. PIZZA CONNECTION - KITCHEN - PLATING STATION
The final flourish, an enticing blanket of Pecorino Romano cheese, is generously grated over the pasta. The cheese, sharp and slightly salty, lends a perfect counterpoint to the richness of the lamb ragù.
FADE TO:
INT. PIZZA CONNECTION - KITCHEN - FINISHING TOUCHES
A dusting of toasted black pepper is then elegantly sprinkled over the dish. These specks of spice, popping against the creamy Pecorino and the glossy ragù, create a beautiful visual contrast and add a tantalizing heat that dances on the palate.
DISSOLVE TO:
INT. PIZZA CONNECTION - DINING ROOM - TABLE
The dish is then carefully carried out and presented, steam rising from the warm Paccheri and the scent of the slow-cooked ragù, toasted pepper, and sharp Pecorino invitingly wafting through the air.
FADE OUT.
An Italian symphony of flavors, each bite of the Paccheri from Pastificio Mancini with Lamb Ragù is a ticket to a gastronomic journey, expertly orchestrated by the maestros at Pizza Connection.
FADE IN:
THE END OF THE JOURNEY.
The complex flavors, the painstakingly perfected textures, and the harmonious blend of traditional ingredients, this dish is more than just a meal – it's an invitation to an unforgettable culinary experience.
FADE OUT.
#CapeTownEats #SouthAfricaEats #CapeTownFoodie #SlowCookedInCapeTown #AuthenticItalianInCT #SlowFoodMovementCT #MotherCityFoodLovers #GourmetPasta #EatItalianInCT #TasteOfItalyInSA